Kriddles Roberts is the youngest president of Waitakere Rotary
Kriddles Roberts has an extraordinary story - born into the gang life, experiencing homelessness, starting a charity and now joining a "bigger machine" - she's the surprising new president of Waitakere Rotary, New Zealand. Roberts, young, Māori, tattooed down to her gold-ringed fingers and born into the gang life, is the youngest president of Waitakere Rotary and only the fourth woman to lead the West Auckland club. Click
here
to listen to her story and continuing reading about her inspiring journey.
Kriddles Roberts with supporters on the night of the presidential changeover
Kriddles Roberts was a homeless teenager in Sydney when she first learnt how to make a difference to people in crisis.

Two decades later, the mother of two is the president of an organisation that is still men-only in some parts of the world, but like her is dedicated to helping people in the community.

She tells about her "colourful" start to life, and her own experiences of poverty that led her to start the charity Unity in our Community. She explains why she's taken up the leadership of a conventional organisation to boost her work.

"With Rotary wanting more change and diversity, they could see that I'm in it for the cause not the applause. I think I served a year and a couple of months ... did president-elect duties while doing the Unity in Our Community mahi.

"It's not exactly the same but it's the same kaupapa, helping in the community and because I do that type of mahi I wanted to be part of a bigger machine."

Unity in our Community helps dozens of poor families in west and south Auckland with regular deliveries of food, clothing and toiletry packs Roberts has "hustled" from retailers and other donors. She started the work five years ago when the number of families living in cars and garages was reaching record numbers. She also organises an event every six months to a year, attended by hundreds of people, with free food, clothing, haircuts, entertainment and support services.

Roberts says her early life helped her develop skills in fearlessly tapping into the resources and funds of different people and organisations.

"For the last several years I chose to self-educate," she told guests at the changeover event. "By surrounding myself with the haati (hearty), those that walk their talk, the hustlers, CEOs, the shakers and movers, the wealthy, the poor, the 'no' people instead of the 'yes' people and the pono (sincere)."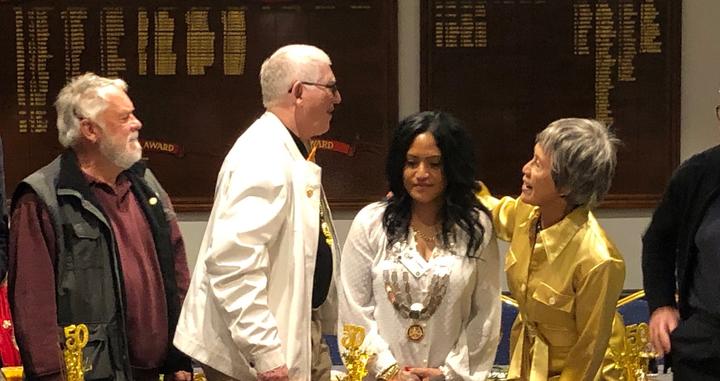 Kriddles Roberts on the night of the presidential changeover at Waitakere Rotary

Waitakere Rotary's changeover of leaders earlier this month marked the club's 50th anniversary and a major turning point for an organisation with a traditional membership of middle-aged and ageing, Pākehā businessmen. In many ways, Roberts is the answer to Rotary's push to diversify or die.

The global organisation set up 115 years ago has more than 1.2 million members and 35-thousand clubs. Like many community clubs, membership is dwindling and it has struggled to attract new members. Roberts says one of her goals is to bring in new members with plans to shake up the traditional meeting format, introduce a range of speakers and target young people.

The winner of a Kiwibank Local Hero award, Roberts was also named a Paul Harris Fellow on changeover night in recognition of her work in the community.