Mediators Beyond Borders International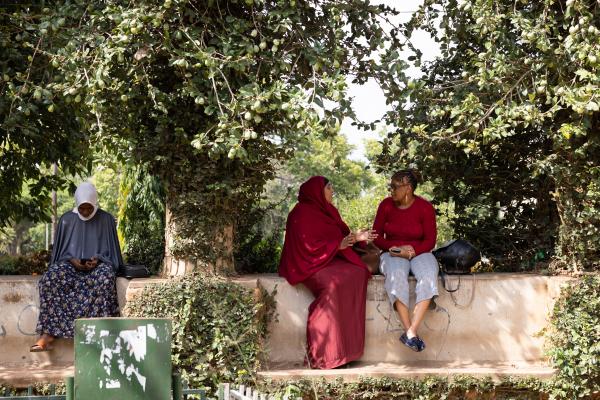 Addressing conflict through a grassroots process that puts people at the center and involves the whole community is a way to create lasting change — and the approach that's the basis of the partnership between Rotary and Mediators Beyond Borders International.
MBBI collaborates with Rotary clubs and districts around the world on peacebuilding efforts. The group brings its expertise in a mediation process defined by community collaboration and empowerment, and Rotary lends its credibility, trust, and deeply rooted local knowledge.
In partnership, the organizations create opportunities for difficult dialogues and train local facilitators, with a special focus on increasing women leadership in mediation and peacebuilding.
"It's a multiplier effect," says Scott Martin, a founding member of MBBI and Rotary Peace Fellow. "Together, we ask, 'Who else needs to be included,' help affected parties connect to the humanity in each other and themselves and facilitate conversations that can be lifesaving."
MBBI also works regularly with clubs to focus inwards, a program called 'Peace Conversation Facilitation' (PCF) that helps members discuss challenging topics, and builds consensus around issues that affect their respective communities.
"We can each hear about a problem and each have a different understanding of it," Martin says. MBBI can help clubs move beyond talking about an issue to creating the kinds of engagement that are healthy and productive for everyone involved.
Conflict is "an essential part of the human experience," Martin says. The key, however, is to not ignore or sidestep it, but to address it, keep it from escalating into violence, and learn from it. This can transform the energy that drives conflict into more inclusive, constructive interactions, and ultimately safer, more connected, and more prosperous communities.
Martin says Rotary's focus on working alongside affected people, business leaders, and coalescing with communities as a whole is very much in keeping with this ethos. "The new vision for Rotary is inspiring," he says. "It's bringing about change among ourselves and in the community, and measuring that impact."
To connect your club with MBBI, contact ripartner@mediatorsbeyondborders.org.
Habitat for Humanity
Rotary and Habitat for Humanity International attract the same kind of service-minded people, and the partnership between these organizations encompasses an array of areas where housing intersects with Rotary's main causes.
This includes access to clean water and sanitation, community economic development as it relates to housing, and responding to housing and humanitarian needs in crisis situations such as conflict and environmental disasters. Habitat also works at the local, state and federal level to address housing policies and systems and advocate for access to safe, affordable housing.
Habitat's broad strategic goals offer opportunities for Rotary club partnerships beyond the homebuilding or repair projects that people may immediately think of. Clubs can meet with a local Habitat affiliate or invite a Habitat representative to speak at a meeting and start a conversation about local housing needs, community economic development, or rebuilding after a disaster.
"Rotary and Habitat have a shared commitment of bringing people of all walks of life together to positively change the world, which is what makes our partnership so strong," said Julie Laird Davis, vice president of corporate and cause marketing partnerships at Habitat for Humanity International. "Rotary members are well respected voices in their communities. They have passion for their communities and for the causes they care about, which makes them valuable partners and volunteers for local Habitat organizations."
Rotary members have supported their local Habitat affiliates by identifying needs and helping to secure funding and philanthropic investments for local projects as well as through guidance on home builds and advocacy on environmental sustainability. When a project's goals are achieved, Rotary's enduring community presence can ensure that the results are sustainable for the long term.
Like Rotary, Habitat also seeks scalable, cross-sector projects — and collaboration between the organizations holds the promise of powerful results. Habitat's Terwilliger Center for Innovation in Shelter is studying market-based solutions to housing issues, including nurturing businesses that can improve affordable housing and develop products like cost-effective solar heating systems.
The Rotary-Habitat partnership is "centered around our shared desire to help others and to create lasting change in communities in which we serve around the world," said Laird Davis.
Learn more about Habitat for Humanity.
Ashoka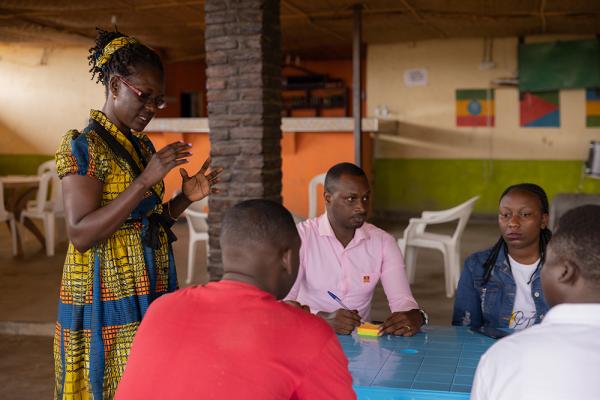 Rotary's partnership with Ashoka brings together the vision of Ashoka's social entrepreneurs with the local expertise of Rotary members to inspire innovation that can solve problems, create leaders, and change societies.
That kind of partnership couldn't be more necessary at this critical point in history, says Tim Scheu, director of global partnership management for Ashoka. People are trying to define the long-term effect of the COVID-19 pandemic, he says, even as the pace of global change is massively accelerating.
"The big question is: How do we help people become those who enact change rather than be subject to it?" he says. "Both Rotary and Ashoka offer role models, expertise, and networks that accelerate the power of good ideas and more responsive policies."
Ashoka supports more than 4,000 social entrepreneurs who are developing solutions to challenges around the world. It wants everyone to be empowered to make change in their communities — whether that's in their neighborhood, their workplace, or their family. Rotary and Ashoka's partnership promotes opportunities for collaboration among Rotary members, Ashoka's staff, and the social entrepreneurs.
Scheu sees great potential in pairing the energy and inspiration of the Ashoka Fellows with Rotary members who are enmeshed in their communities and located around the world.
"Rotary is about being people of action. Ashoka envisions a world where everyone is a change-maker," he says. "That's incredible synergy — imagine what we can accomplish as we bring the Ashoka and Rotary networks together."
A Rotary club could contact Ashoka to identify and engage an Ashoka Fellow to speak at a meeting about how members can make a greater social impact. Members might get advice from Ashoka Fellows that helps them bring more focus and value to a service project. And the Ashoka Fellows might also be helpful as members implement global or district grant projects around the world.
"Ashoka Fellows' interests run the gamut," Scheu says. "We have people working on a campaign to end land mines, children's rights, reforestation. If a club gravitates towards a particular theme, there's likely an opportunity to develop innovative solutions to some of a community's most pressing needs in partnership with an Ashoka Fellow working in the club's home country."
Rotary members contemplating the environmental or social impact of their businesses or their workplace decisions, for example, could work with Ashoka Fellows to create new business models that find "the intersections between business strategy and social impact," Scheu says.
In addition to being partners with Rotary, Ashoka has worked with leading institutions around the world on vital contemporary issues: helping children learn empathy, teaching young people to become change-makers, and ensuring that communities can access healthcare. Other Ashoka projects have focused on the relationship between people and technology, such as how global demographic shifts will affect aging.
This kind of change-making deepens people's sense of purpose, gives them more meaningful projects, and increases the positive impact institutions can have — a critical factor in retention for a company or for an organization like Rotary.
"We know that a key element of Rotary's Action Plan is increasing the ability to adapt at every level," Scheu says. "Our fellows ... can see change on the far horizon. By working together, we can amplify the work of Ashoka Fellows and leverage the power of Rotary know-how and volunteerism. That's how you create a change-making culture, and transformation that really lasts."
To connect with an Ashoka Fellow or learn more about Rotary's partnership with Ashoka, contact rotary.service@rotary.org.
ShelterBox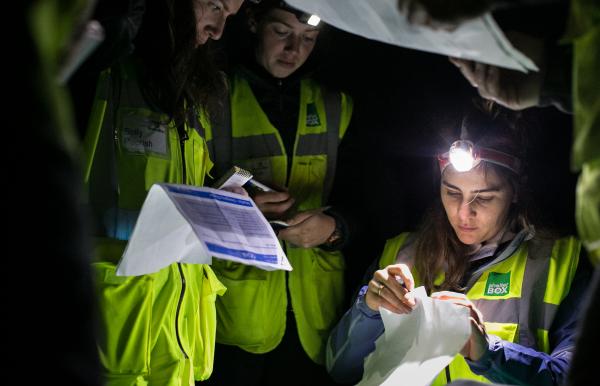 ShelterBox, an internationally known disaster relief organization and one of Rotary's key partners, originated as a Rotary club project that aimed to help eight to 10 families a year.

But support from Rotary members and clubs during the past two decades has helped ShelterBox achieve the flexibility and scale to serve more than 2 million people who have survived environmental disasters and conflicts around the world.

It's "a shining example of what Rotarians and Rotaractors are able to accomplish" as Rotary and ShelterBox work together and leverage each other's expertise, says Alex Youlten, the Rotary partnership manager at ShelterBox.

Rotary members have an enormous role in ShelterBox's response strategy. The first call ShelterBox makes after a disaster is often to a local Rotary or Rotaract club in order to activate their extensive networks. And many of ShelterBox deployments involve Rotary members.

Aid from ShelterBox can arrive in many different ways, sometimes in signature green crates or as kits that may be hand-delivered by volunteer teams that travel by boat, helicopter, tuk-tuk, or foot to get to wherever the resources are needed. The boxes, which include both ShelterBox and Rotary logos, contain family-sized, weather-appropriate tents designed to withstand the elements and equipment like solar lights and cooking sets.

Beyond those who volunteer for direct response work (which requires a rigorous training program) Rotary acts as a "response multiplier." This means Rotary members provide situational updates, help ShelterBox responders understand local events, and connect the responders with drivers, other transportation, accommodations, and interpreters. Rotary members help resolve customs and import challenges, organize storage or warehouse space, introduce ShelterBox teams to key local or central government figures, and more.

Rotary clubs and volunteers also play a critical role in the long-term response. These community-based leaders work with people on the lengthy effort to build a sustainable recovery — especially after emergency response agencies have completed their core work of stabilizing the community.

"Shelter is a process, not a product," Youlten notes. "We focus on emergency shelter and supporting communities in staying together so people have both the physical and emotional space to think about what comes next. But we're also providing combinations of aid, packaged in a variety of ways, to better meet the needs of the people we support. Our partnership with Rotary is fundamental to the work of helping a community get back on track."

The exchange of knowledge between the organizations goes both ways. Rotary and Rotaract clubs learn from ShelterBox experts how to convert good intentions and the desire to act quickly into a durable and effective response that is based on logistics preparation, community needs, and coordinated communication with our partners.

ShelterBox, with an emphasis on monitoring, evaluation, and using community feedback to continuously improve, also helps Rotary and its members stay current on the best practices in disaster response while providing clubs with an example of how to be an organization that learns and adapts.

What's ahead for ShelterBox and Rotary? The need for our partnership shows no sign of abating, as the disasters brought about by climate change will likely overshadow those that stem from global conflict. Flooding is expected to be the leading cause of weather-related disasters in many parts of the world. Warming oceans will bring heavier rain to places unaccustomed to it. Other places will face more deadly droughts, like the one in East Africa that has left up to 50 million people facing food insecurity and driven more than 1 million Somalis from their homes. ShelterBox's research predicts that 167 million homes could be lost to climate change in the next 20 years.

Better responses to these needs will come from better preparation. That's why ShelterBox is eager to work with Rotary and Rotaract clubs to be proactive, ensure that solid networks are in place, and help members be ready to put the most up-to-date practices into action at the international, district, and club levels — and with Rotaract and Interact members — to create lasting solutions.

"Rotary members have incredibly powerful voices," Youlten says. "And when we have as many conversations as possible about the ShelterBox partnership, so much could be better in the world."
To invite a ShelterBox speaker to a meeting, exploring collaborating with ShelterBox to respond to a local disaster, or to prepare for future disaster, contact
rotaryrequest@shelterbox.org