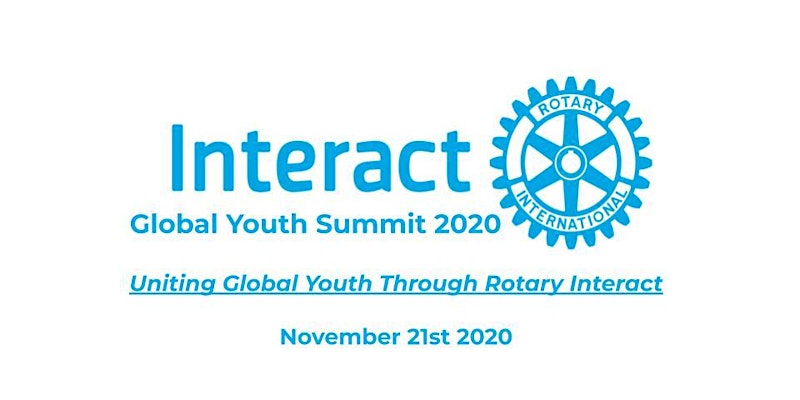 Our world is going through one of the biggest global crises since World War 2. COVID 19, racial unrest, natural disasters and a rise in autocratic regimes are challenging our society at all levels...individual, local, national and global. Now more than ever it is important for our world's youth to get engaged and be involved in the discussions that are being had around the world and to ask this question. "How can we as the world's youth and future leaders unite and work together to overcome the global challenges that we are facing?" We believe that it starts with a dialog and sharing our mutual experiences.

The Interact Club of Celebration High School is organizing a Virtual Global Youth Summit on the 21st of November from 12pm - 3pm EST and is inviting Interact members from around the world to attend. The purpose of this conference is to provide a forum for Interact Clubs around the world to come together to discuss the challenges we are all facing and to share how we are facing those challenges in positive ways that benefit our communities. This conference will enable clubs around the world to share their stories and examples of how to engage in a discussion to better equip and prepare our world's future leaders with better understanding and compassion for the challenges that we all face regardless of race, nationality, gender or geographic location and how by uniting we can find new ways to overcome those challenges. We also aim to celebrate local heroes who are making a positive impact in our communities.

Our Keynote Speaker will be Rotary International President Elect Mr. Shekhar Mehta who will discuss how Rotary International is facing COVID-19 and how Rotary Interact can get involved. https://www.rotary.org/en/shekhar-mehta-india-selected-be-2021-22-rotary-international-president

Speakers/Content: The content of the conference will consist of live presentations, videos and panel discussions. We will invite adult and youth leaders who are making a difference in our world and our local communities.

We will also invite Interact Clubs around the world to submit a 90 second video on how they are facing the challenges in ways that are helping others or benefiting the community. We are looking for stories of hope and positivity and local heroes to inspire others.

Attendance is Free for attendees. We are soliciting company sponsorship as part of our fundraising efforts. All proceeds will go to fund organizations supporting COVID efforts. Specific organizations receiving the funds will be announced at our global event. Please advise if you are interested in being a sponsor. Email Contact: For confirmation and more information please email the Conference Chair, Brandon Cunningham at Interact.summit@gmail.com