Posted by Public Image Team (PIT) on Apr 20, 2018
World Immunization Week, 24-30 April, is a great opportunity to help spread the word that #VaccinesWork and are critical to preventing and ending diseases, like polio.
Immunizations can save as many as 3 million lives a year and is one the most cost-effective healthcare tools, according to the World Health Organization. Vaccines help people all over the world live healthy lives.
Here are four ways your club can support global immunization during World Immunization Week:
1. Learn
Did you know that through immunization Rotary and its partners have helped protect more than 2.5 billion children worldwide from polio? In addition, the "plus" in PolioPlus helps support a range of additional health and humanitarian interventions for other disease initiatives, such as measles and tuberculosis. Use this article at your next meeting to discuss how your club can get more involved in Rotary's global priority. Encourage your members to follow End Polio Now on Facebook and Twitter for the latest polio eradication news.
2. Get involved
World Polio Day may seem far away, but it's never too early to begin planning your activity for 24 October! Last year, a record number of Rotary clubs registered their events, and we are planning an even bigger splash for 2018. Looking for inspiration? Visit the Resource Center for videos, educational materials, and event tools to get started. Virtual reality (VR), Rotary's latest club resource, is a great tool to add to your World Polio Day event. Through VR, viewers can see firsthand how together we end polio. Rotary is developing a suite of resources to help clubs integrate VR into a club event, but in the meantime, experience VR for yourself. Download the Rotary VR app to your smartphone device from the Apple App Store or Google Play.
3. Donate
Donations to PolioPlus support vaccinations, surveillance, and outbreak response — three key elements to helping end this disease for good. Thanks to your generosity, we are working to raise $50 million per year over the next three years in order to unlock a 2-to-1 match from the Bill & Melinda Gates Foundation, announced last year at the Rotary International Convention. Rotary clubs are encouraged to give $1,500 or more to polio each year. Districts can also allocate 20% of their funds to the cause through District Designated Funds (DDF). And here's how to give as an individual.
4. Share the news
Show how your Rotary club is a part of a global effort to immunize the world's children by using #endpolio and #vaccineswork in your social media posts. Use these templates to tailor your social media messages. Reach out to local media during World Immunization Week to share your club's involvement in the fight against polio. If you need help starting this conversation, talk to your regional public image coordinator. Be sure to tell us about what your club is doing to help end polio so we can share your work with readers around the world.
Posted by Public Image Team (PIT) on Apr 18, 2018
Posted by Public Image Team (PIT) on Apr 17, 2018
Posted on Apr 17, 2018
Posted by Public Image Team (PIT) on Apr 17, 2018
Posted by Public Image Team (PIT) on Apr 14, 2018
Princes Town Secondary School Interactors Annual Beach Clean in collaboration with the Prince of Moruga and Princes Town Rotary Club
Posted by Public Image Team (PIT) on Apr 10, 2018
Posted by Public Image Team (PIT) on Apr 05, 2018
Rotary aid for heart patients
THE Rotary Club of St Augustine has saved the lives of more than 1,200 heart patients in TT over the past 32 years, says immediate past president Gary Williams.
Of that figure, he said, 549 of those medical cases were attended to between July 2016 and July 2017, under the banner of the club's two flagship projects: the Regional Distribution Centre (RDC) and Heart Beat International Trinidad and Tobago (HBITT ).
While both projects sourced pacemakers from manufacturers across the globe at no cost, the Heart Beat International initiative also secured the services of surgeons pro-bono, said a media release. Williams recently disclosed this success at the 49th Handing Over Ceremony to mark the 2017-2018 Rotary term at the Teaching and Learning Centre, The University of the West Indies, St Augustine.
"From inception in 1985 to 2017 altogether 1,500 lives have been saved in TT alone; whilst another 1,594 devices have been distributed to other HBI Heart Centres around the world in places like India, Philippines, Paraguay, Honduras and Dominican Republic. In effect our Rotary Club has saved 3,094 lives from 1985 to 2017," Williams said while reporting on his 2016-2017 stewardship.
The Heart Beat International initiative was a joint project with other organisations, inclusive of other Rotary Clubs. Williams, who has taken up the post of assistant district governor with responsibility for four clubs in east Trinidad, as well as those in Tobago.
During the Rotary year 2016-2017, he said, the club combined with the individual efforts of members made donations to the Rotary Foundation estimated at more than US$9,000.
Locally, donations were made to several causes including The Dyslexia Association the sponsoring of a teacher to become certified in diagnosing dyslexia.
In the aftermath of tropical Storm Bret which caused flooding in several parts of Trinidad, the club rallied its members to assist the affected citizens in Caparo.
The club then partnered with insurer Sagicor and the Rotary Club of Piarco to provide similar relief to the Piarco/St Helena community, and assisted similar efforts in south.
In addressing the club's future, Williams noted new members were being recruited through the Interact and Rotaract systems.
Since 2003, the club has been sponsoring and supporting the Rotaract Club of St Augustine which caters for people ages 18- 30.
In 2014, the club began supporting the Interact Club of St Augustine Girls' High School which recruits member's ages 12-18.
Posted by Pulic Image Team (PIT) on Apr 06, 2018
Posted by Public Image Team (PIT) on Mar 21, 2018
Posted by Public Image Team (PIT) on Mar 17, 2018
Read more...
Posted by Public Image Team (PIT) on Mar 15, 2018
Posted by Public Image Team (PIT) on Feb 19, 2018
Posted by Public Image Team (PIT) on Feb 13, 2018
Rotary International is requesting the names and contact information of the incoming club officers entered into their database.
Posted by Public Image Team (PIT) on Jan 26, 2018
Posted by Public Image Team (PIT) on Jan 16, 2018
Posted by Public Image Team (PIT) on Jan 16, 2018
2018-19 RI President Barry Rassin wants Rotary members to Be the Inspiration
By Hank Sartin. Photos by Monika Lozinska
Rotary International President-elect Barry Rassin laid out his vision for the future of the organization on Sunday, calling on leaders to work for a sustainable future and to inspire Rotarians and the community at large.
Rassin, a member of the Rotary Club of East Nassau, New Providence, Bahamas, unveiled the 2018-19 presidential theme, Be the Inspiration, to incoming district governors at Rotary's International Assembly in San Diego, California, USA. "I want you to inspire in your clubs, your Rotarians, that desire for something greater. The drive to do more, to be more, to create something that will live beyond each of us."
Rassin stressed the power of Rotary's new vision statement, "Together, we see a world where people unite and take action to create lasting change — across the globe, in our communities, and in ourselves." This describes the Rotary that leaders must help build, he said.
To achieve this vision, the president-elect said, Rotarians must take care of the organization: "We are a membership organization first. And if we want to be able to serve, if we want to succeed in our goals — we have to take care of our members first."
Rassin asked the incoming district governors to "inspire the club presidents, and the Rotarians in your districts, to want to change. To want to do more. To want to reach their own potential. It's your job to motivate them — and help them find their own way forward."
Progress on polio
Rassin noted that one source of inspiration has been Rotary's work to eradicate polio. He described the incredible progress made over the past three decades. In 1988, an estimated 350,000 people were paralyzed by the wild poliovirus; just 20 cases were reported in 2017 as of 27 December. "We are at an incredibly exciting time for polio eradication," he said, "a point at which each new case of polio could very well be the last."
He emphasized that even when that last case of polio is recorded, the work won't be finished. "Polio won't be over, until the certifying commission says it's over—when not one poliovirus has been found, in a river, in a sewer, or in a paralyzed child, for at least three years," he said. "Until then, we have to keep doing everything we're doing now." He urged continued dedication to immunization and disease surveillance programs.
Sustaining the environment
Rotary has focused heavily on sustainability in its humanitarian work in recent years. Now, Rassin said, Rotarians must acknowledge some hard realities about pollution, environmental degradation, and climate change. He noted that 80 percent of his own country is within one meter of sea level. With sea levels projected to rise two meters by 2100, he said, "my country is going to be gone in 50 years, along with most of the islands in the Caribbean and coastal cities and low-lying areas all over the world."
Rassin urged leaders to look at all of Rotary's service as part of a larger global system. He said that this means the incoming district governors must be an inspiration not only to clubs, but also to their communities. "We want the good we do to last. We want to make the world a better place. Not just here, not just for us, but everywhere, for everyone, for generations."
https://www.rotary.org/en/rotary-international-president-rassin-theme-2018
Posted by Public Image Team (PIT) on Dec 13, 2017
The Rotary Club of Port of Spain (RCPOS) together with DeciBel Entertainment is pleased to announce:
Star Wars: The Last Jedi — a charity event and early film screening
Wednesday, December 13th 2017 at 10:00 pm at the CinemaONE Lobby & Theatres (IMAX & GEMSTONE), located at One Woodbrook Place, Port of Spain.
With incredible food, drinks, games, giveaways and atmosphere included, this exclusive engagement promises to be one that provides a most memorable experience filled with both wonder and whimsy for all fans of Star Wars - both old and new! Not to mention that everyone in attendance will be the first in the Caribbean to see the film!
To add some more thrills to the evening, the event will also include a CosPlay competition with some of the best costumed characters from Star Wars vying for top honors. Everyone attending is also invited to come dressed in their Star Wars gear or as their favorite character.
Tickets are $250 for IMAX Reserved Seating and $350 for GEMSTONE VIP Reserved Seating and are available via the
CinemaONE
Box Office or online.
Private theatres for group purchases are available upon request.
Please bear in mind to book your tickets early as there is limited seating and already significant demand.
All proceeds raised by this event will go towards the continued support of the
Rotary Foundation
and of the Club's various humanitarian and community service projects in Trinidad & Toabgo which are aimed at assisting the differently-abled and disadvantaged in our community and include: the International Institute for Healthcare & Human Development and its Wheelchair Bus Service; the Peter Knaggs Children's Dental Clinic; and, the Princess Elizabeth Centre.
For more information on the event, please check it out on
Facebook
.
Feel free to spread the word among your organization, friends, family and colleagues.
Remember: It's not just a movie...it's an experience!
Your support is greatly appreciated!
Posted by Public Image Team (PIT) on Nov 27, 2017
Interview with WaddySowma, RI District 7030 Governor, from Rotary Club of Panamaribo Residence, Suriname.
What is the outcome of your stay in Martinique?
As Governor of district 7030, this includes the southern Caribbean from Antigua to Trinidad, French Guiana and Suriname, I had to visit the seven Rotary Clubs of Martinique, as well as the two Rotaract and Inner Wheel Clubs, with my efficient and remarkable assistant Thierry D' AbadiedeLurbe. I have reviewed their goals and objectives for the year to see if they are in agreement with Rotary International and the district, and provide advice and recommendations. And of course, for me this year, the added value of my visit to Martinique is the celebration of the 60th anniversary of the Rotary Club of Fort de France (hereafter called Dean)!
It was the first French-speaking club in the Caribbean created in August 1957 and received its charter from the Rotary Club of Paris (the oldest club in France) and its bell from the Rotary Club of Hollywood in Florida. It was the island's only club for 13 years and then spread by sponsoring other Rotary Clubs and allowed the expansion of the Rotary family in Martinique, with theClub of Saint Pierre in 1970, then that of Fort de France Sud in 1975 etc.... It has been a driving force and continues to be very dynamic. We owe them the 60 years of Rotary presence in Martinique, which was the theme of last Saturday's gala evening in my honour.
Each club has its own DNA, its own specificities. I've seen some very good service, and I've met many enthusiastic Rotarians, Rotarians, Rotaractors, and Rotaractors. I encouraged them to take advantage of the training and education offered by the Rotary Leadership Institute (RLI) so that they could perform even better and play a role in Martinique society and contribute funds to The Rotary Foundation, giving them more flexibility for their projects.
With HervéHonoré, who is in charge of The Rotary Foundation in our district, I spent the entire day on Saturday in Dominica with our Rotarian friends there and met with Prime Minister Skerrit to discuss medium- and long-term reconstruction projects with him. There is a lot to do and the situation is disastrous. We will play our full part in the reconstruction efforts. First of all, we must identify the projects that we will be able to support effectively.
What can you tell us about the Rotary Club of Fort de France (dean) after your second visit to this club in 8 days?
It's an underage club: 60 years old! Very proactive, I told them: you're not close to retirement! You're 20 years old! I had the pleasure of meeting them, I felt "positive and inspiring waves" during my first visit last Monday at lunch and that's why I decided to go back there a second time before leaving. I wanted to show them my friendship.
It is a club that has marked Rotary's history in Martinique with remarkable service projects. It is still
in line with Rotary International's focus on service, empathy and friendliness. It is also online on the notion of leadership and knowledge promotion with conferences twice a month with very high level speakers from all spheres of society. It is a club that continues to play a major role in the public image of the district and Zone 34. For example, with Archbishop Monseigneur Macaire as an honorary member and with two of their future flagship projects on the occasion of their sixtieth anniversary:
A 45-minute film about Rotary's 60th anniversary in Martinique, directed by one of their members Samuel Marie-Louise, was screened at a conference and debated in January. The film was given to the Rotary Club of Martinique to serve the Rotary community and beyond. Oh, that's wonderful. I think it's a great idea to work to promote Rotary.
Fundraising for illiteracy with a VIP dictation to be given in the first quarter. Once again, the club always plays a very positive role in promoting the public image of Rotary in Martinique.
And then I also noted its openness to the international scene with a willingness to continue twinning with other Rotary Clubs in Europe, North Africa, United States etc. and that's very positive!
I wished them to remain as enterprising as ever and gave them an appointment in 60 years.
Read more...
Posted by Public Image Team (PIT) on Nov 16, 2017
Posted by Public Image Team (PIT) on Oct 31, 2017
Posted by Public Image Team (PIT) on Oct 30, 2017
Posted by Public Image Team (PIT) on Oct 30, 2017
Posted by Public Image Team (PIT) on Oct 21, 2017
Posted by Public Image Team (PIT) on Oct 24, 2017
The Rotary Club of Grenada East is celebrating their 40th anniversary with weeklong celebratory events.
Starting with a church service and communal breakfast with Rotarians as well as friends of Rotary at our Rotary House (Leslie's home).
Posted by Public Image Team (PIT) on Oct 21, 2017
Posted by Public Image Team (PIT) on Oct 18, 2017
Posted by Public Image Team (PIT) on Oct 16, 2017
Posted by Public Image Team (PIT) on Oct 14, 2017
Posted by Public Image Team (PIT) on Oct 03, 2017
Posted by Public Image Team (PIT) on Sep 18, 2017
Why education changes the world
By Isma Seetal, Rotary Global Grant Scholar
"Education is the best way to change one's standard of living."
My mother would repeat this phrase over and over. I was lucky to have been brought up by a hard-working, single, mother, who empowered my brother and me to climb the socio-economic ladder by giving us the best education she possibly could. Other children from broken families like mine did not have the same fortune. My unwavering drive to give back and improve my community led me to join the Rotaract club of Port-Louis, Mauritius in July 2012.
"Driiiing! Driiing!" My alarm rang out on a Saturday morning. My mind and body knew it was the weekend, and ganged up on me so that I had to crawl sluggishly out of bed. But the reason for my early wake-up soon dawned on me. It was the day of Lolo's follow-up doctor's appointment.
Lolo is an eight-year-old boy, living in a poverty-stricken area of the island, whom I had met during a health-related Rotaract project. His mother was convinced that he was suffering from cognitive disabilities, which she blamed for his poor grades, and for the fact that he was constantly bullied at school. However, the diagnosis the doctor gave us that day was different from what the mother had thought: hearing impairment. Lolo was not mentally challenged. He just couldn't hear properly!
Many doctor appointments later, I visited Lolo. My heart filled up as he ran up to my friend and me, sporting the widest smile. Thanks to a hearing device, Lolo could now hear his teachers in class. He had changed from a sullen, withdrawn little boy, to a cheerful child with glowing and hopeful eyes. I discovered a passion: community service. I went on to become a Rotaract board member and then the president of the club in 2013-14.
Through this project and many others, it became increasingly clear to me that the reason there were so many children roaming the streets was much more complex than I had thought. Some are the dropouts of an archaic education system, others are the victims of poverty and abuse, yet others are caught in their parents' web of drugs and alcoholism.
Back then, during one of the long discussions I had with my husband-to-be about the societal ills which continue to pervade our country, we came to one conclusion: we needed to build our skills and knowledge further to make a difference on an even larger scale. Though I am from a small island of 1.3 million, thanks to a Rotary global grant, I am now studying in California for a doctorate in Educational Leadership, gorging on new knowledge and making the best of the international exposure. I am delving more into educational reforms and the principles of leadership, and I am eager to return to my country to bring about positive changes in education.
I continue to volunteer here for the Newport-Irvine Rotary Club, my hosts. The ties with Rotary are life-long! Long live Rotary!
Posted by Public Image Team (PIT) on Aug 22, 2017
Posted by Public Image Team (PIT) on Sep 05, 2017
Posted by Public Image Team (PIT) on Aug 19, 2017
Posted by Public Image Team (PIT) on Jul 28, 2017
Posted by Sean Paddy on Jun 30, 2015

Dear Fellow Rotarians,
I wish to extend greetings to you as we start this new Rotary Year. To all Club and District officers, I wish to extend heartiest congratulations on your appointments and wish you every success during your year. This year, as we strive to "Be A Gift to the World", let us renew our commitment to Rotary and its ideals.
I have set six areas of focus for this year – Foundation, Membership, Public Relations, Rotaract & Interact, Training and Dyslexia.
Read more...
Posted by Sean Paddy on Jun 30, 2015
Chers amis Rotariens,
Au début de cette nouvelle année Rotarienne, je désire vous transmettre mes salutations. À tous ceux qui entre en poste de district, je vous félicite sincèrement pour cette nomination et je vous souhaite bon succès pour cette année. En faisant tout notre possible pour "faire don de soi au monde", renouvelons notre engagement au Rotary et ses idéaux.
J'ai six domaines d'intérêt particulier à cette année - Fondation; l'effectif; relations publique; Rotaract & Interact; formation; la dyslexie.
Read more...
Posted by Sean Paddy on Jul 21, 2015
REGISTER NOW!
Early Registration discount ends December 2015.
Posted by Sean Paddy on Jul 21, 2015
DG Milton began his visits to Clubs in District 7030 and is off to a rousing start.
Read more...
Posted on Aug 18, 2015
DG Milton on hand for the official opening of the TEACCH Programme in Port of Spain, Trinidad.
Read more...
Posted by Sean Paddy on Aug 19, 2015
Please check more information on how your club can earn a Rotary Public Image citation at Rotary.org
Read more...
Posted by Sean Paddy on Aug 30, 2015
Basseterre, St. Kitts – The Rotary Club of Liamuiga and Rotary Club of St. Kitts extend their sincerest thanks and appreciation to all persons who assisted, donated and volunteered to aid Dominica.
On Saturday August 29, 2015, both Rotary Clubs spearheaded a relief aid effort for the Commonwealth of Dominica in the aftermath of the destruction that island suffered following the passage of Tropical Storm Erika on August 27, 2015.
Read more...
Posted by Sean Paddy on Sep 05, 2015
The Annual Rotary District 7030 Presidents' Meeting will be held in Antigua on Saturday 19th September 2015 at the Trade Winds Hotel. 2015 marks the 3rd consecutive year that Club Presidents and District personnel will be meeting to discuss matters of import and concern both to the District as well as to Clubs in general.
Read more...
Posted by Sean Paddy on Sep 08, 2015
'Positioning Tomorrow's Leaders Today'
5th to 7th November 2015 - RYLA returns to Grenada!
Read more...
Posted by Sean Paddy on Sep 14, 2015
Sponsor a new member and you'll not only strengthen your club, you'll also get recognized for your efforts. Through the
New Member Sponsor Recognition program
, sponsors will now receive a specially designed Rotary pin and recognition on Rotary's website.
Read more...
Posted by Sean Paddy on Sep 17, 2015
The good you do comes back to you.
Rotary members can enjoy discounts on travel, hotels, dining, entertainment, and more through Rotary Global Rewards, a new member benefit program that began 1st July 2015. Anyone can view the offers, but only Rotary members who sign in to their My Rotary accounts can redeem the discounts.
Read more...
Posted by Sean Paddy on Sep 21, 2015
The Rotary Months designations have changed for 2015-2016! A
new calenda
r with updated dates and deadlines was effected on 1st July 2015. Visit this calendar throughout the year to find award deadlines and convention and event information. Develop meeting agendas, projects, or public image campaigns based on these special occasions. Use them at your regular meetings to promote Rotary's involvement in these activities.
Read more...
Posted by Sean Paddy on Sep 28, 2015
RLI SUNSHINE DIVISION
Part One held in Antigua
Sunday 20th September 2015
PDG Lara Quentrall-Thomas
District 7030 RLI Director
In-keeping with our commitment to improved training, District 7030 held it's first RLI training for the new Rotary year in beautiful Antigua on Sunday 20th September 2015. It was also the very first time our District has facilitated an RLI with 'home grown' discussion leaders, namely PDG Hervé Honore, DGE Roger Bose, DGN Waddy Sowma, AG Dominique Venere and PP Sonya Alleyne. They all very kindly gave up their time to spend the weekend with 20 enthusiastic Rotarians from clubs in Antigua, Trinidad, St Kitts and Guyana.
Read more...
Posted by Sean Paddy on Sep 29, 2015
Ken Solo
District Governor, 2015-2016
Rotary International
District 7620
Growing the membership of your Rotary club is all about the value you provide for prospective members. The value equation is relatively simple and looks something like this: local and community service + networking and business development + professional growth and leadership opportunities + fellowship + fun / cost of membership = Value of Rotary. We tend to focus on the numerator in this equation all of the time. ( er…the numerator was all the stuff before the divisor "/" sign.) Today we are going to focus on the denominator, for the good reasons of 1) cost of membership is cold and lonely and we just don't talk about it enough, and 2) it is the quickest way to improve the value equation.
Read more...
Posted by Sean Paddy on Sep 30, 2015
Sheila Bethel
District 7020 Public Image Chair
Zone 34 Assistant Rotary Public Image Coordinator
For years, we described Rotary by the numbers: 1,220,115 members in 34,558 clubs in 200 countries and regions. Impressive figures, for sure, but they only tell part of our story. What numbers can't convey is the essence of Rotary –- what sets us apart and inspires people to get involved.
Read more...
Posted by Sean Paddy on Oct 01, 2015
Quick Tips for an Effective Rotary Year
Read more...
Posted by Sean Paddy on Oct 04, 2015
Connect with Korea – Touch the World
The Rotary International Convention travels to Seoul, 28 May-1 June 2016. Explore this world-class city and discover the rich culture that connects the latest trends with time-honored traditions. Taste eclectic cuisine and shop for the newest fashions and electronics. Meet new friends, share ideas, and interact with new technology at this dynamic, unforgettable convention. Connect with the thousands of Rotarians who will come together in friendship and peace.
Register Now and Save!
Check back for new details and program updates. Take advantage of your opportunity to save.
Be sure to register before 15 December for early registration savings.
Read more...
Posted by Sean Paddy on Oct 12, 2015
MISSON
To rapidly provide emergency shelter and vital aid to stabilise, protect and support communities overwhelmed by disaster and humanitarian crisis.
Read more...
Posted by Sean Paddy on Oct 13, 2015
Is Your Club Working Towards a 2015/16 Presidential Citation?
Read more...
Posted by Sean Paddy on Oct 14, 2015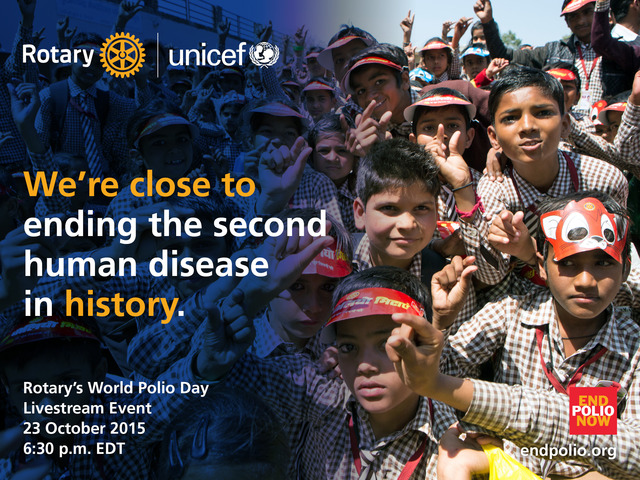 How close are we to a polio-free world? What's needed to finish the job? Can we make history together?
Read more...