Posted by Public Image Team (PIT) on Sep 18, 2017
Why education changes the world
By Isma Seetal, Rotary Global Grant Scholar
"Education is the best way to change one's standard of living."
My mother would repeat this phrase over and over. I was lucky to have been brought up by a hard-working, single, mother, who empowered my brother and me to climb the socio-economic ladder by giving us the best education she possibly could. Other children from broken families like mine did not have the same fortune. My unwavering drive to give back and improve my community led me to join the Rotaract club of Port-Louis, Mauritius in July 2012.
"Driiiing! Driiing!" My alarm rang out on a Saturday morning. My mind and body knew it was the weekend, and ganged up on me so that I had to crawl sluggishly out of bed. But the reason for my early wake-up soon dawned on me. It was the day of Lolo's follow-up doctor's appointment.
Lolo is an eight-year-old boy, living in a poverty-stricken area of the island, whom I had met during a health-related Rotaract project. His mother was convinced that he was suffering from cognitive disabilities, which she blamed for his poor grades, and for the fact that he was constantly bullied at school. However, the diagnosis the doctor gave us that day was different from what the mother had thought: hearing impairment. Lolo was not mentally challenged. He just couldn't hear properly!
Many doctor appointments later, I visited Lolo. My heart filled up as he ran up to my friend and me, sporting the widest smile. Thanks to a hearing device, Lolo could now hear his teachers in class. He had changed from a sullen, withdrawn little boy, to a cheerful child with glowing and hopeful eyes. I discovered a passion: community service. I went on to become a Rotaract board member and then the president of the club in 2013-14.
Through this project and many others, it became increasingly clear to me that the reason there were so many children roaming the streets was much more complex than I had thought. Some are the dropouts of an archaic education system, others are the victims of poverty and abuse, yet others are caught in their parents' web of drugs and alcoholism.
Back then, during one of the long discussions I had with my husband-to-be about the societal ills which continue to pervade our country, we came to one conclusion: we needed to build our skills and knowledge further to make a difference on an even larger scale. Though I am from a small island of 1.3 million, thanks to a Rotary global grant, I am now studying in California for a doctorate in Educational Leadership, gorging on new knowledge and making the best of the international exposure. I am delving more into educational reforms and the principles of leadership, and I am eager to return to my country to bring about positive changes in education.
I continue to volunteer here for the Newport-Irvine Rotary Club, my hosts. The ties with Rotary are life-long! Long live Rotary!
Posted by Public Image Team (PIT) on Aug 22, 2017
Posted by Public Image Team (PIT) on Sep 05, 2017
Posted by Public Image Team (PIT) on Aug 19, 2017
Posted by Public Image Team (PIT) on Jul 28, 2017
Posted by Sean Paddy on Jun 30, 2015

Dear Fellow Rotarians,
I wish to extend greetings to you as we start this new Rotary Year. To all Club and District officers, I wish to extend heartiest congratulations on your appointments and wish you every success during your year. This year, as we strive to "Be A Gift to the World", let us renew our commitment to Rotary and its ideals.
I have set six areas of focus for this year – Foundation, Membership, Public Relations, Rotaract & Interact, Training and Dyslexia.
Read more...
Posted by Sean Paddy on Jun 30, 2015
Chers amis Rotariens,
Au début de cette nouvelle année Rotarienne, je désire vous transmettre mes salutations. À tous ceux qui entre en poste de district, je vous félicite sincèrement pour cette nomination et je vous souhaite bon succès pour cette année. En faisant tout notre possible pour "faire don de soi au monde", renouvelons notre engagement au Rotary et ses idéaux.
J'ai six domaines d'intérêt particulier à cette année - Fondation; l'effectif; relations publique; Rotaract & Interact; formation; la dyslexie.
Read more...
Posted by Sean Paddy on Jul 21, 2015
REGISTER NOW!
Early Registration discount ends December 2015.
Posted by Sean Paddy on Jul 21, 2015
DG Milton began his visits to Clubs in District 7030 and is off to a rousing start.
Read more...
Posted on Aug 18, 2015
DG Milton on hand for the official opening of the TEACCH Programme in Port of Spain, Trinidad.
Read more...
Posted by Sean Paddy on Aug 19, 2015
Please check more information on how your club can earn a Rotary Public Image citation at Rotary.org
Read more...
Posted by Sean Paddy on Aug 30, 2015
Basseterre, St. Kitts – The Rotary Club of Liamuiga and Rotary Club of St. Kitts extend their sincerest thanks and appreciation to all persons who assisted, donated and volunteered to aid Dominica.
On Saturday August 29, 2015, both Rotary Clubs spearheaded a relief aid effort for the Commonwealth of Dominica in the aftermath of the destruction that island suffered following the passage of Tropical Storm Erika on August 27, 2015.
Read more...
Posted by Sean Paddy on Sep 05, 2015
The Annual Rotary District 7030 Presidents' Meeting will be held in Antigua on Saturday 19th September 2015 at the Trade Winds Hotel. 2015 marks the 3rd consecutive year that Club Presidents and District personnel will be meeting to discuss matters of import and concern both to the District as well as to Clubs in general.
Read more...
Posted by Sean Paddy on Sep 08, 2015
'Positioning Tomorrow's Leaders Today'
5th to 7th November 2015 - RYLA returns to Grenada!
Read more...
Posted by Sean Paddy on Sep 14, 2015
Sponsor a new member and you'll not only strengthen your club, you'll also get recognized for your efforts. Through the
New Member Sponsor Recognition program
, sponsors will now receive a specially designed Rotary pin and recognition on Rotary's website.
Read more...
Posted by Sean Paddy on Sep 17, 2015
The good you do comes back to you.
Rotary members can enjoy discounts on travel, hotels, dining, entertainment, and more through Rotary Global Rewards, a new member benefit program that began 1st July 2015. Anyone can view the offers, but only Rotary members who sign in to their My Rotary accounts can redeem the discounts.
Read more...
Posted by Sean Paddy on Sep 21, 2015
The Rotary Months designations have changed for 2015-2016! A
new calenda
r with updated dates and deadlines was effected on 1st July 2015. Visit this calendar throughout the year to find award deadlines and convention and event information. Develop meeting agendas, projects, or public image campaigns based on these special occasions. Use them at your regular meetings to promote Rotary's involvement in these activities.
Read more...
Posted by Sean Paddy on Sep 28, 2015
RLI SUNSHINE DIVISION
Part One held in Antigua
Sunday 20th September 2015
PDG Lara Quentrall-Thomas
District 7030 RLI Director
In-keeping with our commitment to improved training, District 7030 held it's first RLI training for the new Rotary year in beautiful Antigua on Sunday 20th September 2015. It was also the very first time our District has facilitated an RLI with 'home grown' discussion leaders, namely PDG Hervé Honore, DGE Roger Bose, DGN Waddy Sowma, AG Dominique Venere and PP Sonya Alleyne. They all very kindly gave up their time to spend the weekend with 20 enthusiastic Rotarians from clubs in Antigua, Trinidad, St Kitts and Guyana.
Read more...
Posted by Sean Paddy on Sep 29, 2015
Ken Solo
District Governor, 2015-2016
Rotary International
District 7620
Growing the membership of your Rotary club is all about the value you provide for prospective members. The value equation is relatively simple and looks something like this: local and community service + networking and business development + professional growth and leadership opportunities + fellowship + fun / cost of membership = Value of Rotary. We tend to focus on the numerator in this equation all of the time. ( er…the numerator was all the stuff before the divisor "/" sign.) Today we are going to focus on the denominator, for the good reasons of 1) cost of membership is cold and lonely and we just don't talk about it enough, and 2) it is the quickest way to improve the value equation.
Read more...
Posted by Sean Paddy on Sep 30, 2015
Sheila Bethel
District 7020 Public Image Chair
Zone 34 Assistant Rotary Public Image Coordinator
For years, we described Rotary by the numbers: 1,220,115 members in 34,558 clubs in 200 countries and regions. Impressive figures, for sure, but they only tell part of our story. What numbers can't convey is the essence of Rotary –- what sets us apart and inspires people to get involved.
Read more...
Posted by Sean Paddy on Oct 01, 2015
Quick Tips for an Effective Rotary Year
Read more...
Posted by Sean Paddy on Oct 04, 2015
Connect with Korea – Touch the World
The Rotary International Convention travels to Seoul, 28 May-1 June 2016. Explore this world-class city and discover the rich culture that connects the latest trends with time-honored traditions. Taste eclectic cuisine and shop for the newest fashions and electronics. Meet new friends, share ideas, and interact with new technology at this dynamic, unforgettable convention. Connect with the thousands of Rotarians who will come together in friendship and peace.
Register Now and Save!
Check back for new details and program updates. Take advantage of your opportunity to save.
Be sure to register before 15 December for early registration savings.
Read more...
Posted by Sean Paddy on Oct 12, 2015
MISSON
To rapidly provide emergency shelter and vital aid to stabilise, protect and support communities overwhelmed by disaster and humanitarian crisis.
Read more...
Posted by Sean Paddy on Oct 13, 2015
Is Your Club Working Towards a 2015/16 Presidential Citation?
Read more...
Posted by Sean Paddy on Oct 14, 2015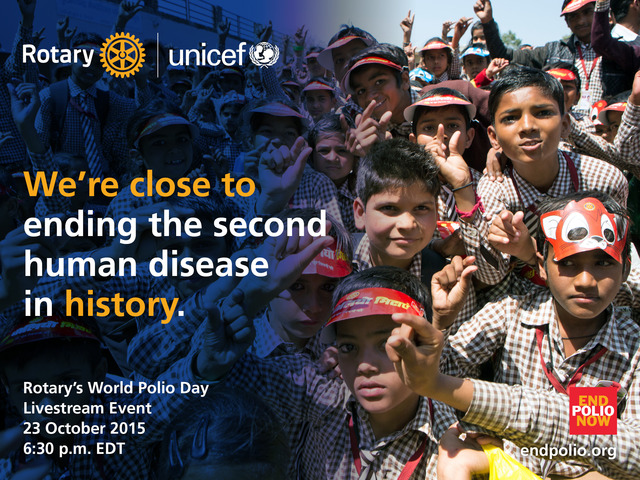 How close are we to a polio-free world? What's needed to finish the job? Can we make history together?
Read more...